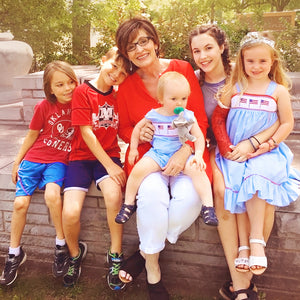 A Tulsa Tradition
Kathleen's Kids has been a local business in Tulsa for nearly 35 years. Back in 1986, Kathleen started making hair bows in her garage and her customers would come visit her in her garage 'bow shop'. As Kathleen realized how popular bows were becoming, she expanded to a bow store in midtown Tulsa (36th and Harvard to be exact!) where she sold bows to match any outfit! This expanded into gifts, toys, accessories and clothes when she moved into a larger space right next door to her first store. The demand to dress Tulsa's cutest kids kept growing and Kathleen moved into Utica Square and truly jumped into fashion retail (of course always making matching custom bows for every outfit!) and began outfitting newborn to tween for boys and girls.  The time came to expand to bring even more cuteness to Tulsa, where Kathleen moved out south to her current location at 81st and Harvard. This store was built exactly to Kathleen's vision with a custom bow department, two play areas and most importantly a runway for kids to show off their cute new looks on the catwalk and to really make them feel special.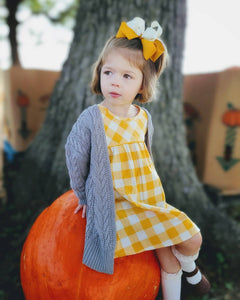 It's All About The Bows!
Most importantly bows! Kathleen built her business on making hair bows and continues that service today, it is what we believe makes us unique! The quality of the bows are impeccable, they are always hand sewn and NEVER wire wrapped, so they are made to last. At Kathleen's Kids, we make bows to match any outfit, whether it be from our store or your own special outfit that you bring in.  We have a large bow department with all of the ribbons, embellishments and trimmings: from grosgrain, satin, velvet and sheer ribbons to lace, crinkles and rhinestones; the options are truly endless to choose from. Aside from Kathleen's standard range of classic essential bows, we also have a range of fun custom bows with painted names, initials or fun motifs ( love trying new designs!) and show your school spirit with a bow made to match your schools colors.  We can really make the sweetest accessory for the perfect little girl, exactly the way you choose!
Cute Kids, Cute Clothes!
We cater to all ages, from newborn to tween, boys and girls. We have a great toy area and can help you find the perfect gift for birthdays or baby showers. We strive to find the perfect fit and take pride in training our employees to make sure that your little gets the right pair of shoes (it is so important to get that first pair of walking shoes right!). We stock all styles of clothing and shoes from play wear to sleep wear to dressy, making it easy to find the perfect outfit for any occasion. We also cater to special occasions such as christenings, first communion or formal wear for weddings / fancy occasions.  
We have loved welcoming new customers into our store, watching your little cuties grow up in front of us and it has been so fun to watch our once little customers bring their new babies and grandparents into the store! Customers have made our business for over 30 years and we continue to put our customers at the heart of our passion, offering the best customer service with a local boutique shopping experience. Come visit us at Kathleen's Kids, "where the clothes are as cute as the kids who wear them!"
Absolutely LOVE your store!!! Found everything I needed for all 4 of my kiddos and everyone was very helpful!

Jana
I shopped at this store way back when it was in Utica Square. The day my niece was born it Snowed, a lot, I walked over and bought her a headband and a red bow with a white snowflake on it. Shopped there several more times after that. She turns 15 Nov 28th.

Sandra
This is my favorite kids store!!!! They have the best selection of clothes! Love dressing my girls at Kathleen's kids!!!!! I am 6 hours from Tulsa! But I always make time to visit!!!!

Brittany